Your first ever mini? Looks very good.
Great rust effects - not easy to do.
Not 1st ever just my 1st for KOW. Played other games years ago then d&d for the last 7.
The light seems to come from behind, making it very hard to see the paint job properly. Could you get some light from the front?

Very nice paint job.
Love undead - they were my first KoW army.
Ill give it a try Fred when i have the troop done ill work on my photography skills
Getting decent light (sunlight is best) and a nuetral base/backdrop, plus a steady hand is half the battle to making your miniatures looking their best
I have tried to get some better light. 5 down 5 to go. once i have the main down i may go back and embellish the shields a little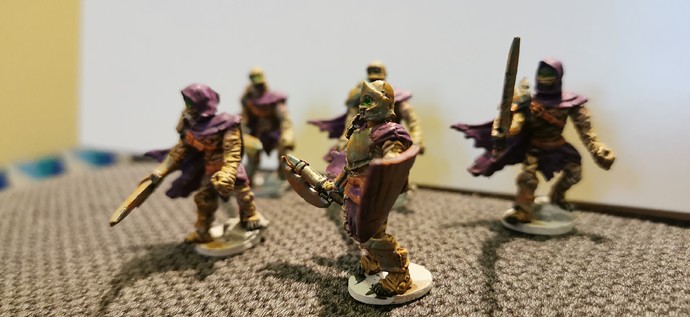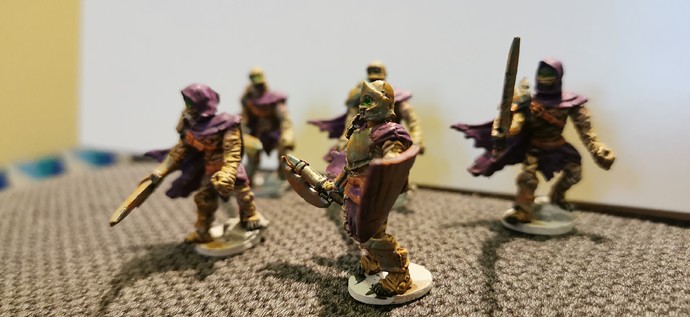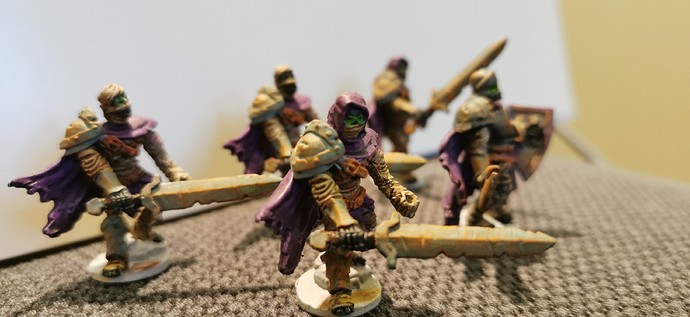 `
Amigo!


I really want to take a good look and give feedback but I am not able to see details since the light is still coming from the wrong direction (the back). The evidence is in the shadows on the tabletop reaching towards the viewer. The light needs to come from roughly the same place as where you are holding the camera, both anglewise and height wise. The ceiling light is too high up. I use a desk lamp which is in the height of my head and put my mobile right next to it, when I take images most of the time. If I have to use only the ceiling light I lift the models high and photo them close to a bright wall so they get more of the light hitting them in the front.
The shadows should be behind the models, away from the viewer, often not visible at all if you get the light hitting them in the front. Sorry to nag you but you will thank me down the line for learning it.

Thanks for the great advise Fred. i will try with my next set


sound advice from @FredOslow .
Personally, when i can i use sunlight, place my phone propped up so it is freestanding and not casting any shadows on the model itself, then use my bluetooth headset to click the photo, so no wobble occurs.
If i need to use an overhead light, i lay the model/unit on its side so that the light is shining directly down on it to reduce shadow,
hope that helps
From what i'm seeing though, they are looking good
Regiment now painted up just basing to go. Hope these pictures are better I tried taking the advice with the light etc. Revenant hoard now underway. Happy gaming all.
Nice effective looking unit
Once you base them it'll really come together
Solid work and good photos!
Your photos are much better and your mummies are looking great.