As you may be aware, there's some confusion floating around about how exactly to resolve charge paths. Now, I'll preface by saying this is some nerd shit, and if you and your opponent are happy to just go with what makes sense in the moment then all power to you. My group and I thrive on clear, precise rules, so we all understand actions and consequences at a glance.
My plea is to eliminate the requirement that a charge take the shortest path, and instead take the one that requires the smallest pivot.
I realize that it can make for some goofy looking charges where your unit runs all the way to the opposite corner of the unit and stumbles across every pond and forest on the way, but it is VERY easy to see what the correct path is. The exact shortest path is sometimes quite difficult to nail down, and a few degrees of uncertainty can easily be the difference between a hindered or clear charge. Take this example: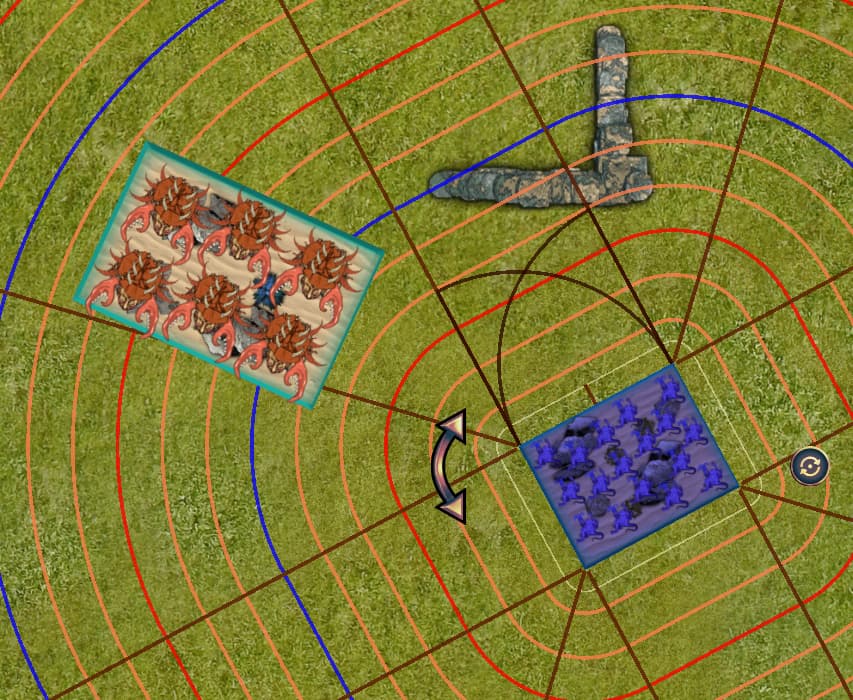 The highlighted unit wants to charge the Gigas in the flank. They must pivot in order to do so, but how far do they pivot? Well, in this case, the shortest possible path after a pivot is something like this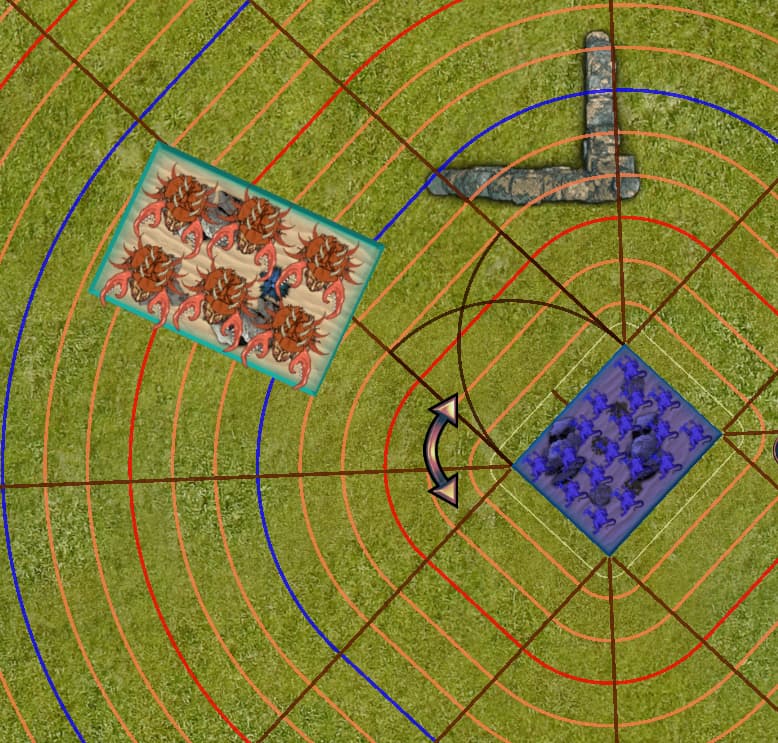 but even in UB I can't really tell whether the charge should be hindered or not! Now, obviously I've constructed this example to be as ambiguous as possible, but it's not like this is an insane theoretical. When you pivot about your center, you change the position of the corner you're measuring from, so when it gets down to the margins, it's really difficult to get an exact path.
There's no question that this next one being a hindered charge is a little goofy, and in this case the shortest path would make way more sense within the fiction of the battle, but I am begging you to agree with me that that narrative benefit isn't worth the headache of figuring out the shortest path on the table.