After painting a number of armies, I now need to actual come up with lists for them!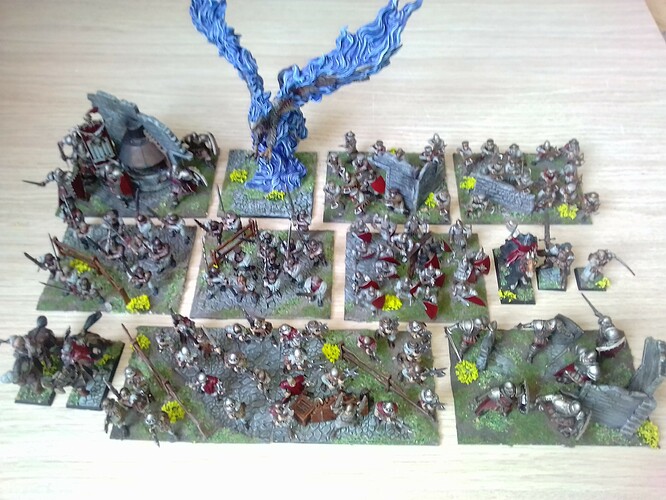 First up, Brothermark. I tend to prefer infantry over cavalry ('cos I don't really know what I'm doing with the latter!), so this is a proposed list which should do OK in the grind.
The xbow units are really objective sitters - a reasonable mix of de & nerve, while possibly doing some plink damage - siege artillery & ballistae probably do more damage but lack the US.
Army: Order of the Brothermark
Points: 2300
Unit Count: 14
Unit Strength: 24
240, Man-at-Arms Spearman Horde
– Hammer of Measured Force
– Veteran Command
250, Ogre Palace Guard Horde
– Aegis of the Elohi
250, Ogre Palace Guard Horde
– Chalice of Wrath
175, Paladin Foot Guard Regiment
– Healing Brew
– Paladin Defenders
– Aegis Fragment
150, Paladin Foot Guard Regiment
– Two-Handed Weapons
150, Paladin Foot Guard Regiment
– Two-Handed Weapons
130, Man-at-Arms Crossbowman Regiment
130, Man-at-Arms Crossbowman Regiment
195, Phoenix
140, Exemplar Hunter
– Blade of Slashing
– Gauntlet
– Horse
130, Priest
– Shroud of the Saint
– Horse
140, War Wizard
– Inspiring Talisman
– Horse
– Lightning Bolt (4) to replace Fireball
– Bane Chant (2)
105, War Wizard
– Conjurer's Staff
– Lightning Bolt (4) to replace Fireball
– Bane Chant (2)
115, Exemplar Paladin
– Lead from the Front