Evening!
Having not touched a miniature in, er, two decades, probably, I've recently dug some out of the attic and decided to take Kings of War for a spin.
I've reassembled "The Orchiectomisers", my greenskin horde from back in the day, and ordered a couple of second hand units from ebay to replace those which were "borrowed" and subsequently emigrated to Texas (thanks, Paul!). The incoming ones look like they've been executed by paintball firing squad, but I have some Biostrip, so that's fine. This is the last time the gang'll be together, as apparently they now need to faction into orcs and goblins. Which is fine, I have hundreds of the things. So with a bit of padding, that'll be two armies. Both quite large (the Orchiectomisers were a very large horde).
Thing is, I work in schools (sysadmin, not teacher), and I'm thinking about carting them off to the gaming club for the kids to try Kings of War. I'll have to supply armies, and greenskin vs greenskin is a bit boring, so I'd like to cobble together an Army of Generic Good.
Given that I'll be spending an amount to pad the two greenskin armies, I'd like to make the best use possible of the minis I have, whilst giving a good impression of the game. So this is where they question comes in: what can I do with the rabble listed below?
You'll see a large slab of them are High Elves, including two largish units of the plastic spears and archers from WFB 4th Ed (left and right in the picture). I also have a smaller unit of swords (centre).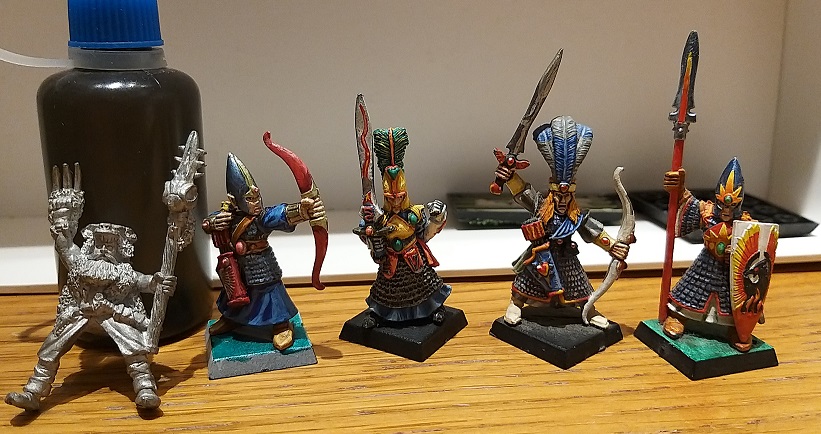 ('scuse painting, they were relatively early on…)
Could I swing these as Basileans? I quite like the look of Basileans, and in any case, they seem to be the only faction that could use both available champions. Most of the minis don't have obvious pointy ears, and I could always take a soldering iron to melt the tips of those that do. My concern is that this might just be too lame to consider, and is the first step down the road that ends with me shrugging my shoulders and declaring them "unusually tall dwarves". One does need some authenticity…
Are there any other factions which would fit better? Sensible alliances? I've not seen anything from "Uncharted Empires"…
I don't mind spending a bit to pad some or all of this into a sensible army, if possible.
Final question - anyone know what the unpainted fellow on the left of the picture is? I don't recognise it at all. I swear he wasn't in the box when I packed them all up…
Right, the list of available people:
High elves
40 spearmen (WFB 4th)
40 archers (WFB 4th)
20 archers
6 silverhelms with captain
Champion on dragon (quite a long model - two large bases - not sure if legal in KoW)
Small dragon (really tiny, almost embarrassing)
Champion on giant eagle (few flame decals and it'll be a phoenix!)
Mage on unicorn (could just be a horse with a hat)
Dwarves
10 dwarves with axes (one flat on his *rse, probably intended for a diorama but he needs to make up numbers)
Dwarven organ gun
Human
1 random plastic wizard, maybe from an Advanced Heroquest expansion
Whatever that guy is in the picture, to the left of the elves
From Battle Masters (plus expansions)
4 Lord Knights
12 Imperial Knights
2 Mighty Cannon
10 crossbowmen
20 archers
20 halberdiers
3 Ogres (were "Chaos" in Battle Masters, but I understand these can fight for Basileans…?)
(I also have all the Battle Masters "Chaos" stuff, including warriors, knights, and more beastmen than anyone ever needs to see.)
Also available: all models from Heroquest and Advanced Heroquest (quite a few men-at-arms, iirc)
Any thoughts?
Thanks!