Hey everyone,
after a few months of reading it's finally my turn to write something here. So please bear with me if it is a little bit rough explaining. I just started to play KoW against @NumbDice and already won an award from his league for loosing all two games

We played 1.000 points and I deployed nearly the same army both times (against Kingdoms of Men and Earth Elementals). This is my "jack of all trades" army list, please have a look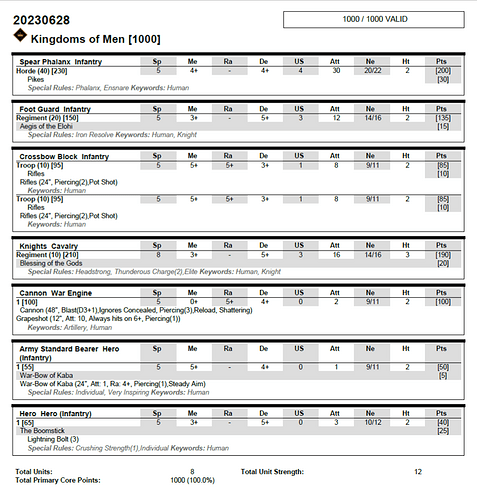 He mopped the floor with me, but was so kind and gave me some pointers what I did wrong:
I just moved my knights around instead of attacking immediately. Have to change that.
Use the Riflemen as cheap units to attack the sides/ back of one of his units which was fighting my Pikemen instead of shoot once and then stand around.
A recommendation I got from YouTube was to play Kingdoms of Men either "grindy" or "shooting". I would prefer a combination of both (if possible, otherwise just grind down my enemies), so here are some of my questions:
Indomitable Will - is it worth it or should I use magic items/ combine both?
Replace the Spear Phalanx Horde and Foot Guard Regiment with a Foot Guard Horde (higher defense)?
Replace the Knights with Beast Cavalry (more attacks)?
Just to explain my questions and a little bit background: I played Warhammer Fantasy years ago and liked the hammer and amboss tactics I could apply with Empire units. A big block of infantry, knights on the flanks and shooting units (muskets plus cannons/ mortars) at the back. Lovely

Right now we used Universal Battle to play and test armies (as @NumbDice has to drive two hours to visit me), but I definitely want to use my old WHFB miniatures to field a real army soon. Depending on your suggestions I'm thinking of converting my 20+ militia into pikemen. The other way round (converting 10 pikemen into militia) would be much easier

In stock waiting for action I've this units (I tried to find a KoW representation for the WHFB unit names):
10x Crossbow Block (Crossbowmen)
5x Mounted Scouts (Pistoliers)
20x Fanatics (Flagellants)
10x Bowmen
10x Spear Phalanx w/ Pikes (Pikemen)
16x Knights
29x Militia Mob (State Troops w/ Swords)
6x Beast Cavalry (Demigryph Knights)
10x Crossbow Block w/ Rifles (State Troops w/ Muskets)
1x Cannon
1x General on Winged Beast/ The Monarch (Karl Franz on Griffon)
1x General on Horse
1x Army Standard Bearer
1x Valten
1x Fanatic Instigator (Battle Priest)
3x Wizards
1x Wizard on Horse
1x Mammoth (Steam Tank)
1x Fanatic Instigator (Witch Hunter)
10x Foot Guard (Greatswords)
I'm looking forward to your suggestions!
Cheers, Matt