I'm just waiting for sleek elven fleets…
With rather out of scale towers on them?

In this I am a beggar so I shall not be a chooser, hehe. Seriously though, I really like the armada ships so far so I'm sure elven vessels will be equally impressive. I wish it wasnt all resin but… beggars and choosers!
they are looking very lovely, I'm excited for elves
If I could heart a comment more than once…
I've seen some of the 3D prints, they're beautiful
Whoa!! Those are nice! Sleek hulls, triangular sails… love them.
Looks good! One a Dragon's Breath ship? (Edit: called Drakon's Fury)
What was the source?
(maybe not the giant rubies)
The photos are from Mantics Facebook page.
Ah - I'd only checked the blog. Thanks.
I really like these. The quarterdeck buildings are a bit much for my taste, but other than that, these are top notch.
I like this fleet a lot - sleek, the filigree, realistic looking buildings.
I think that's why a couple of the details niggle a bit.
The jewels here seem massive. I wonder if you could file a diagonal cross through them to dissect them into 4 smaller gems? If they're not significant, maybe they could be replaced with shields or something similar. Does anyone know what they do/represent?
I really like the general structure of the other ships, but this one seems too modern and a bit less elegant. Maybe the bridging piece could swapped for something less boxy and the mast moved?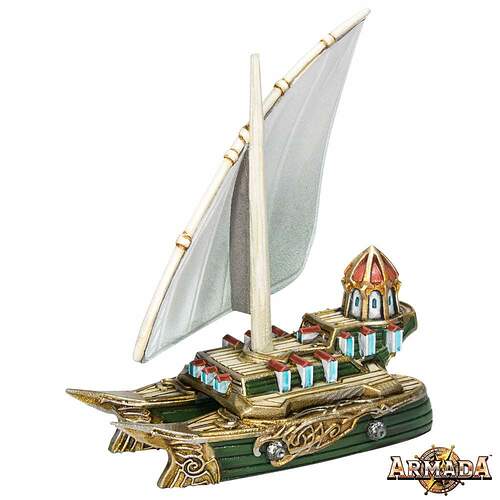 Like I said, on the whole I'm a fan of these minis - just feel the last 5% needs a slight tweak.