how do you mean, modify? I assumed the mantic trays also come in fixed sizes.
My Free Dwarf army is built to play either King's of War or Warhammer 6th, as i struggle to find KoW players nearby. So, each badger can be removed from the tray, but if using in KoW, you measure from the model not the base.
Then there are the KoW diarama type bases, such as my pirate themed Goblin Rabble legion which work best for KoW than other games, but at a push could still be 'movement tray '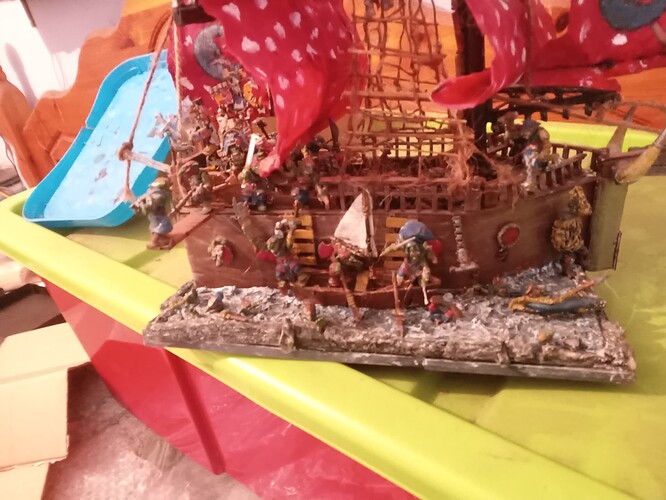 There are actually 30 plus goblins on the ship to adhere to minimummodel count, plus for decorative purposes only , Kaptin Badrukk.
they come in hordes but you can cut them down to regiments
Yeah the mantic trays can be cut into regiments and troops i've got some i'm using for multibasing, they are pretty sturdy.
Well, I broke down the single bases for my prime squad and going to go with a multibase for them, if only because when I modeled them I didnt consider how much of a pain all the arms and shields would be in this unit. it really was hard to make them all line up even outside of a movement tray.
just doing the idea of gluing all the bases together, doing troop squads for them to link them up into full units. Still getting trays for them for ease of movement. Kinda loosing some use for vanguard, but I'm going to be honest when I say no one plays mantic games where I am anyways (yet)
Now, I just gotta figure out how I want to pose them all.
Some of Mantic models are challenging to place on individual bases and then put those same bases into rank and file . For example Northern Alliance Human Clansmen. However, if you glue 10 bases together in a 5x2 deep format, it is much easier to glue the ten models on the base, with some feet poaching on the nearby models base. The challenge then is fitting the troop units together, so try not to have bits sticking over the end of the base before the models are fully stuck in place.
yea, it feels like a tripple whammy with the arms, shields and tails being weird. The models are fine and I like how they look compared to GW, but I was considering putting in blank bases between the models before I just decided to redo them all.
It's going to take some getting used to, but I could probably fix it later today. gotta clean up the base now before I put it back together.
best of luck with it. Personally, i love the bility to really make your units pop when using a diarama type base , but i'm in the same boat as most of the nearby players have gone back to playing Warhammer th edition, (which leaves a lot of my Free Dwarf units such as my badgers redundant. Hopefully, i can play both systems and keep some armies just for KoW
Okay, the more I look into stuff I am buying and modeling, the more bloody confused I am.
So I did what people suggested and put the bases I got in the box together, the 25mms. five across, two deep. should be 125mm x 50mm.
So I just got my wooden bases from Ironheart artisans. 125mm x 50mm for multi-basing, made for KoW. Cool, got that down, going to start using them.
just lined them up, and the bloody Mantic Bases seem longer than 125mm.
I am so confused.
Should I just stop using the mantic bases? I did buy their movement trays and just waiting on them now, but trying to keep everything uniform an legal
Yes, skip on the regular bases. You are more free to position the models if you glue them directly to the multibase as you can see in many of the painting topics here. I use the Mantic multibases too, they work just fine. Just don't measure too much, it'll drive you insane😉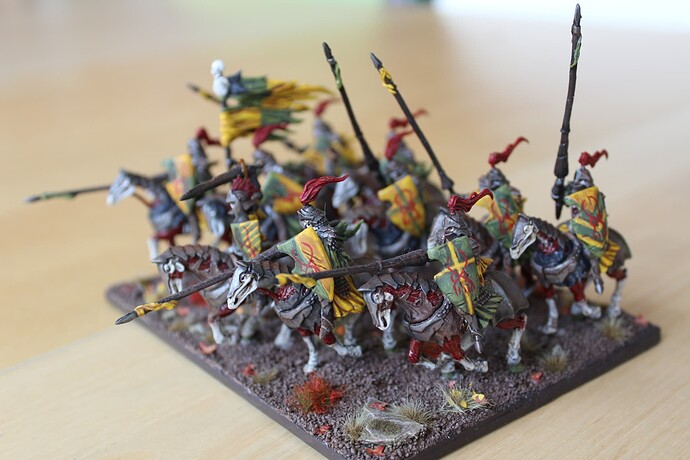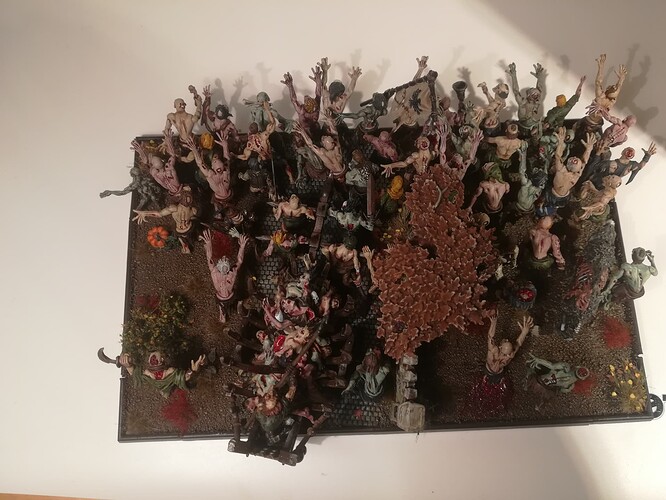 well, I tried to make a multibase out of the regular bases first, but it didnt work too well now compared to the bases I just got. think I need to remove them from the bases I made and redo it? or think the glued together bases is fine?
It's up to you, I guess. I started with multibasing for KoW in 2019 and would never go back. I never tried to glue the standard bases together, should work, but I think you are more free in positioning your models on a 'real' multibase. Take the bases which better fit the footprint, but don't look too close to the milimetre. I haven't met a single KoW player who was b****ing about base sizes on that level.
I'm with @KptKeno on this one. A fine example of multibasing there, with his undead bunching up, just like The Walking Dead against the perimeter fencing, rather than equally spaced like you would find for more disciplined troops. I do the same things with my Orcs, Goblins, and my Celtic 'Herd ' armies.
I chuckled over "Just don't measure too much, it'll drive you insane😉"
If you try to fit, for example, Human Clansmen on 20mm bases and centre each one in his alloted square, you will not fit them all on. However, if you ignore the 20x20 squares and just place them where there is room, you can fit the troops on the 100*40 mm base. I make all my own bases, so i can't help on the Mantic base size, but i do know that some Mantic models come with the wrong base, as the rules changed regarding some units, but Mantic, (who changed the sizes) are still sending the original bases. (Lads, really, it's not rocket science. )
Even the official Mantic multibases are not 100% correct. I guess they are just not used to the metrical system😉
lol yes, multibasing means you dont use the individual bases on each model, but attach them directly to a unit size base.
either by glue (easiest but might snap off later) or a drill and pin (requires some hobbying skills).
upsides is that you can use less models than needed and you can create a more free look since exact placement is no longer locked into a grid.
this is different from using a tray, in which you keep all the individual bases and line them up inside the tray. here you cannot use less models than needed because that would look empty as they slide around inside the tray. although you can put some empty bases or so-called unit fillers to plug all the holes. still a quite rigid method though.
this is because the Mantic bases are made to bei either used as movement try for individual bases or as multi base
hence they are large to fit both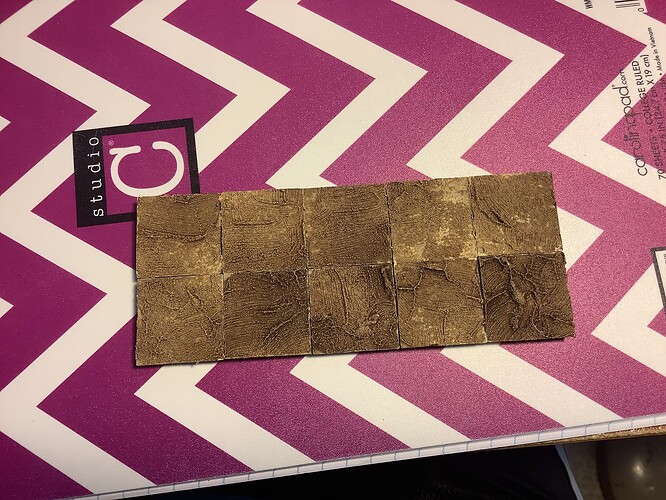 Yea just to show what I am talking about, because it seems I wasn't able to describe it well.
Probably going to keep my primes on their bases (the first picture). Trying to play in tournaments, but I don't think organizers will be that pedantic, will they?
That's actually quite smart.
Yeah, the odd extra mm here or there doesn't really matter.
Very occasionally you might run into a situation where it might (usually multicharging instances), in which case just fudge it!