Eagle convertion into a Giant Raven. The riskiest part was resculpting the beak to the correct shape. Base colours are now done, dark blues, slate blue and black, with a dark green and then a purple wash to give the feathers a dynamic spectrum of colour. I'll highlight in white and slate blue and dry brush in black once it's dried.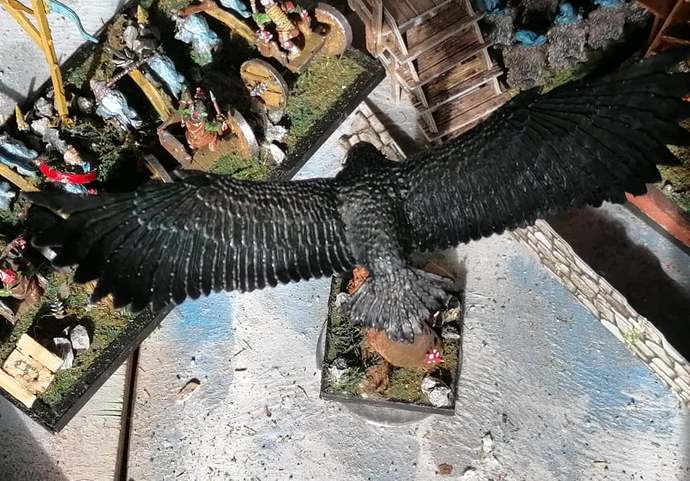 After testing some stuff I think I've settled on a paint scheme. My future ootgl army is going to be blue and green themed so I wanted my big owl to fit in. Looking up blue owls got me so results of a hoax from a while back with a 'new' blue species of owl that turned out to be photoshop. It looked pretty cool so I went with it. Here is the base coat on two wings and the body (the large wing is a different color trial with way more brown that I won't be using)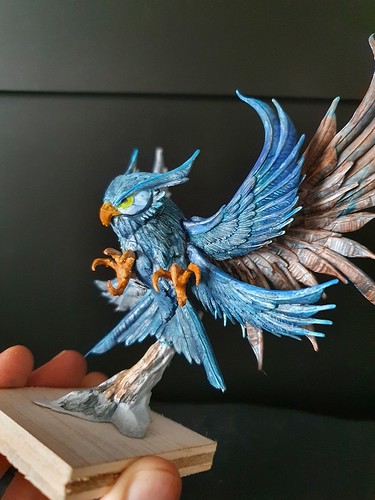 Hello!
It's time for the next update on #MonsterMarch5 painting challenge! Some great progress again, well done to all the participants!
Looking pretty sweet there Sceleris. Where did you get those wings from?
Cheers.
Cut off from a nolzurs/pathfinder d&d pit fiend iirc (needed an abyssal fiend not an archfiend

)
Small progress update … slow and steady, very slow definitely!

2 Horses fully painted and varnished, one based as well as one Rider finished and the other just needs cloak and shield painted, which I'll likely finish tomorrow.
The finished Rider (the one on the left of those two) is kind of an experiment as well. I wanted just a tad more model variety for the 2nd rank and since the different parts kinda fit quite well I used: (Old) Mantic Stormwind Horse and Legs, (Old) Mantic Drakon Rider upper body and the cloak of the current Dragon Kindred Lord on the back.
Quite happy with the result. Will post pictures once all finished and assembled as well.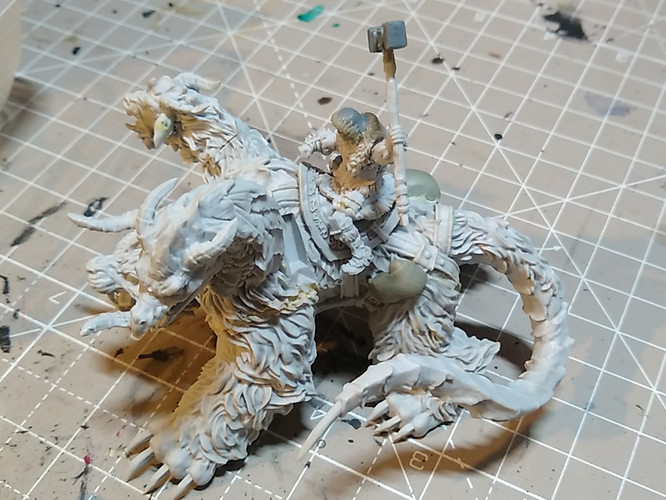 Been quite ill lately so I'm really flagging behind. The hammer is converted from a mantic dwarf and the putty work is adding small additional detail to the model. There's a lot of putty work to do around the neck lines when I'm able.
i admire your slow and steady approach @Mikes, although the concept is alien to me. i'm more of a tazmanian devil, and my work area is no where near as prestine as yours either, with paint splatters and glue drops on it … different strokes… but the models are looking excellent, btw. i am also curious about the wooden holders with the wires on them… they are a work of art in themselves, and look great for holding models or placing them at good painting height on a table , but what do the wires do?
Looking forward to seeing the completed model @WoofBird, coming along nicely. i still have to get that one for my Northern Alliance army, but its on my to do list.
Hi @Nav, thanks for the compliments!

I have to admit though, that where the models are in the picture is not the "paint area", but rather where I put them when I'm not actively painting them. The actual "paint area" looks a bit more messy for sure!
The paint holders are from PK-PRO and I love them. They actually have some model mounting system with cork for models to slot in, but I found it easier to just use those removable "power strips" to stick em on and remove later.
The "wires" or handles are for having a better grip on everything without touching the actual model. They can also be moved around the model as they are just clipped around the holder. That works really well.

Before I used them I would often damage already painted areas when holding/gripping the model for detail work and then have to redo some parts.
To demonstrate, holding models like this is really comfy and you can use a firmer grip without damaging the painted parts:
Good to know, @Mikes, a very clever design on them,
i'm very basic really… i've only recently converted to sticking models on egg cups with blue tac, despite modelling for years… you know what they say about old dogs and new tricks n all that. … but i did splash out recently on some Army Painter brushes rather than buying the cheap ones from my local hardware store… so there is hope for me yet.
Given that i suffer from hand tremors, anything that makes holding a model easier and stready is worth looking into.
Without further Adoo: I have finished this project!
Hello!
The third week of the #MonsterMarch5 painting challenge is coming to an end. Check out how the participants did in the last week. We are slowly getting towards the end of the challenge!