Little spiders from the Nolzurs/pathfinder d&d range?
Yeah, it's got a lot of fun looking pieces, but nothing looks too overwhelming. I'm looking forward to trying.
Yes, those are D&D spiders.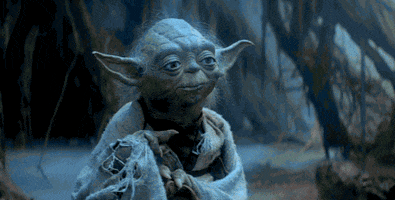 Hello!
Please, check the progress the participants of #MonsterMarch6 have made last week! Some really cool models and it is great to see more people joining as well!
Erm……they are monsters…in combat? Maybe…?

Beautiful! I would be more than happy to add you in the next update! What's next on your "to-paint" list? So that I can tell people what to wait for

lovely work as always, I've a plan to run 5 regiments of them for my own personal amusement
They're monsters of glory! Or something like that.
Nope they're not monsters, you're not fooling anyone you know the rules! shame! shame! shame! burn the heretic.
Seriously though that's lovely paintwork it's a great looking unit.
Are you perhaps saying that @DreadNort is a monster? I think that counts

…at the risk of spreading my updates across multiple platforms, Swordy, here's my next stage of Reanimated Behemoth! Lots of pinning, superglue and bicarb soda later…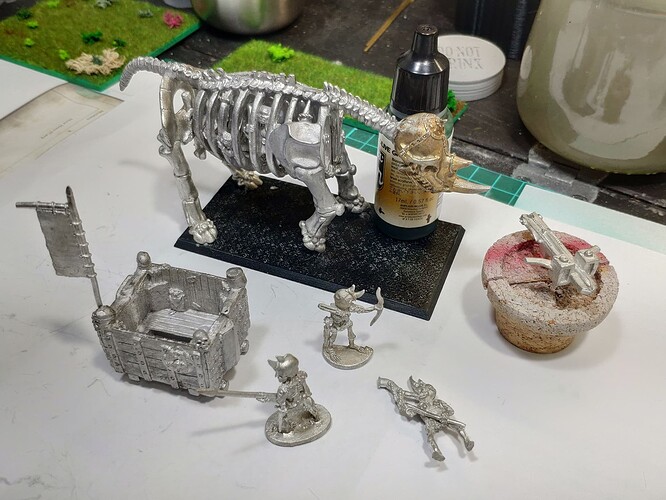 I'll likely not use the two skeletons with bases. The ballista/scorpion thing I'll make removable with an unglued pin so it can be the Drain Life upgrade token, to be put on or not if I've taken it. It's a ranged attack, but I'll paint the head of the bolt the glowy green I've been having fun with to show it's M~a~G~i~C.
Progress for Monster March!
I've paint all the things that are… not the monster.
Base and little spiders done (though I may revisit something).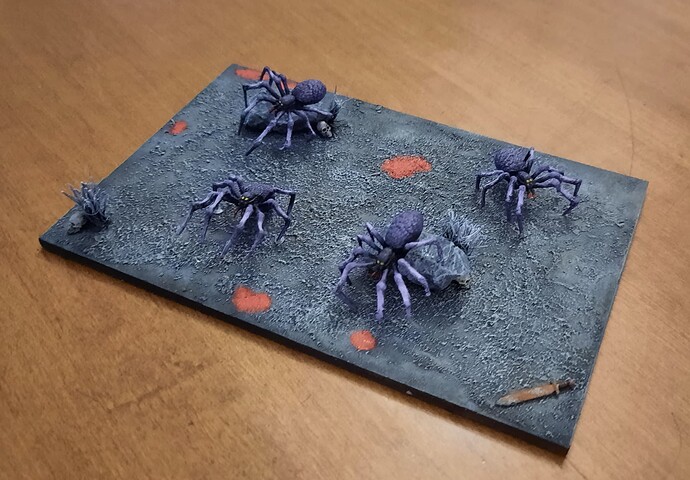 For reference, the big spider goes over top like this: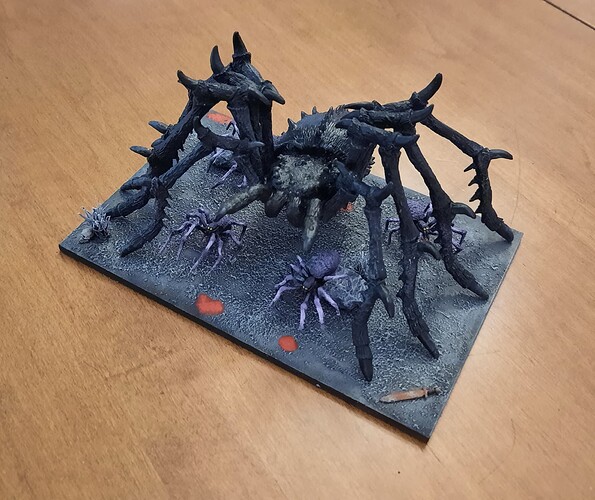 Edit: note that gloss goes onto the blood effects after sealing.
Really, an owl is already enough of a reason
This is triggering my arachnophobia, you'd win by forfeit if we ever had a game cos i'd be running away screaming like a girl if this was put on the table.
Looking good
Creepy nightmares are what I was going for!
Would like to actually play games though.

I left a couple of painted d&d spiders (the small ones use above) just in shot on a works Teams video call - they do look freaky!
I bet nothing got done in that meeting, everyone was too busy watching those spiders checking to make sure they were't moving "please don't be real, please don't be real".