that's not bad, here's a very good tutorial. It's really just working out where the highlight should go
keep on plugging away
Thanks , you are right. I wanted to make it look like there is a purple shine to it but let's keep it simple . I mis my right hand , and i need to make something to put on my stump so i can "hold" my miniatures. I hope it'll give me more control.
That's not horrible, you just didn't follow a lot of the NMM fundamentals regarding contrast. Doing a violet reflection is no problem. Watch a few videos about doing NMM steel and swap the blue for violet and you're all set.
Highlight placement can really be wherever you want. NMM is an inherently non-realistic painting style as the reflections don't change with viewing angle. What is most important is contrast, where you have your darkest colors right next to your brightest color.
I'm sorry to hear about your hand.
Could you take a plastic cup, put it over the stump and secure it, then blue tack the mini to the bottom of the cup?
Thanks for the tips, i always go and try for my self first. Than when i go and look at video's i can see what i did wrong. Best way to lurn is from your mistakes. and yes i do it with an empty toilet roll but it's not great. I have a better idea, no i have to find the parts to make it. When or if it's done i will post it.
that's looking great now, what a difference a day makes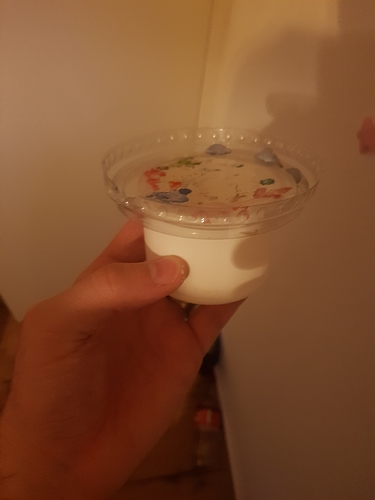 I have both of my hands but I do use this. The white part is the top of an empty spray primer, it would fit around my wrist if my hand didn't get in the way. Something like this might fit for you? If not this then some other piece of plastic that matches the size better should be possible to find
It's glued to another piece of plastic that was a lid that you can find on various dairy products as well as things like mini tomatoes. I included it to give me the edges to catch minis if they fall off the blue tack but also lets me tack them on at different angles than straight so I don't have to hold the whole thing at an angle for long periods of time. If you go this route, I would strongly recommend an extra bit like this for this reason so you don't tire out your arm fast by holding it at weird angles.
But anyway, I really like how your non metallic turned out, it looks great!
Looking better but… More Contrast! See this random example image I found. You need a dark violet in there.
Thanks, this why i love this hobby. Trying things out , playing around and learning new stuff.
Thanks for the compliment and for thinking along with me. I think i have found a good solution, i'm not sure how to explain it but i will post it when it's done. Thanks again.
I think you are right, I'm doing 2 others and i will try that on the second one and somthing else on the 3e .