SLAY BELLS TOURNAMENT
Slay Bells was a one day 1995 point kings of War tournament, hosted by Matt Dewsnap at Entoyment in Poole. The tournament allowed the inclusion in your army of one of 4 special chariot mounted Santa characters. This was going to be a tough tournament with the field including 4 of the current top 16 ranked UK players as well as a former UK Master runner up. Fellow Moonrakers Paul and Andy also attended.
In preparation for the tournament I painted up a Naughty Santa driving a Moonraker corpse cart – and then decided to use Nice Santa for the tournament. I also prepared some Moonraker mementoes for my opponents.
I ran a Green Lady army with a lot of hammers and less chaff than usual:
Regiment Retainers
2 regiments Redemption
2 hordes Forsaken
Regiment Critters
2 Pegasus.
Exemplar Redeemer on Unicorn
Exemplar Redeemer on Horse
Druid
So, read on to find out how I did. (Note that I failed to take many photos and so I have shamelessly stolen most of these from the Lazy Pirate's video BATREP)
GAME 1, TOD, NIGHTSTALKERS, PUSH
IN WHICH I FOLLOW STEVE HILDREW'S ADVICE, UNTIL I DON'T
This was a Push scenario with 2 tokens each plus one in the middle. I followed Steve Hildrew's advice by concentrating on getting my tokens across the board and securing the central token while ignoring the Planar Apparition carrying Tod's tokens.
The plan went well. And then Turn 4 arrived.
On turn 3, Tod had wavered a horde of Forsaken. Never mind, they are Headstrong, anything but a … oh, b****r. I had several attacks going in the centre of the board so let's concentrate on those instead. You guessed it, Double 1. In Tod's turn he rolled high, making up for some poorer attack results with high nerve rolls, and calmly took off 3 of my 4 big hammer units. Things were looking bleak.
That was when I decided to ditch the Hildrew plan, leave Tod to hold the centre token and use my remaining mobile forces to protect my own tokens and to go after Tod's Planar Apparition. In turn 6 I finally killed the Apparition and ended up with 4 tokens in Tod's half for 8 points while Tod had the central token in my half.
Phew, I was feeling very lucky after the disastrous turn 4.
GAME 2, MARK, GOBLINS, INVADE
IN WHICH WE DISCUSS HIGHER LEVEL GEOMETRY WHILE THE CLOCK RUNS DOWN
For Game 2, I was to face Mark in an Invade scenario with his Goblins which went on to win the best army award. More unit drops, more unit strength and a Snarky King with Host Shadowbeast. Ouch!
On my left, Mark deployed a horde of Rabble with the Bangstick formation behind them. I decided that I wanted to destroy this flank and then turn to face the middle. Getting the first turn. I advanced, keeping out of charge range of the Rabble.
It was then that we got into a discussion about geometry. Mark's units were sandwiched between some blocking terrain and the board edge and he wanted to advance the Rabble, turn and move sufficiently to allow the Bangsticks to get past. After several minutes of detailed calculations we came to the conclusion that this would not be possible and the Bangsticks were stuck. Elsewhere, Mark moved his much higher unit strength into my half of the board while his Snarky King and Host Shadow Beast Wiz caused mayhem.
It was looking bad for me but then the time spent on making our earlier calculations came home to roost and Mark timed out, allowing me to fly a horde of Forsaken across the centre line to claim a narrow victory.
GAME 3, MOONRAKER PAUL, NORTHERN ALLIANCE, CONTROL
PLEASE DON'T LET THERE BE A TURN 7, PLEASE, PRETTY PLEASE
My final game was a top table game against fellow Moonraker, Paul, and his Northern Alliance. Going into the game, I knew that Paul was ahead on points and so a win would be needed for me to make the top spot.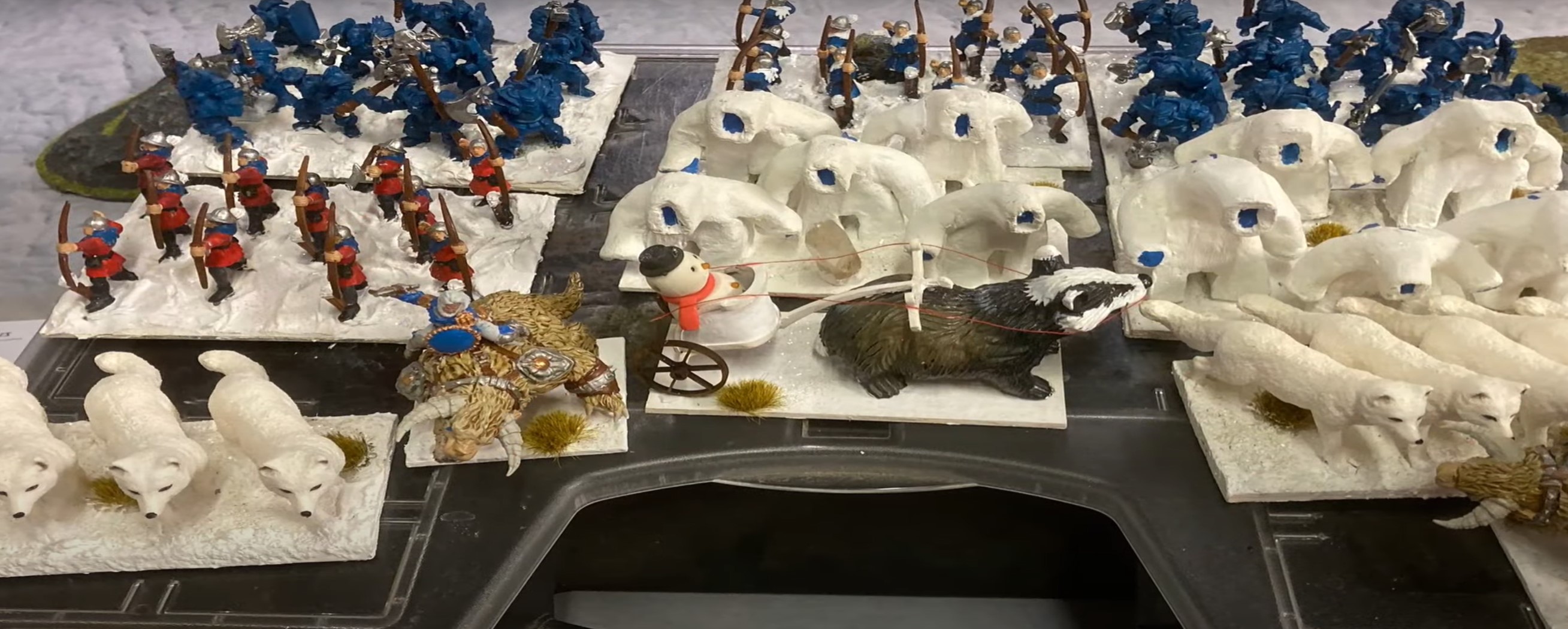 We played a cagey game with a lot of manoeuvring and little combat, although I did learn more respect for the Ice Elementals' breath attacks.
After Paul's turn 6, the situation was a draw with us each holding 3 table sections. In my turn 6, I flew a horde of Forsaken into a table section controlled by Paul; this gave us equal strength in that section meaning that Paul only controlled 2 sections and I could claim the win.
A brilliant success!
And then we rolled the dice and there was a turn 7.
Inevitably, my horde was shot off the table and the game ended with a draw.
AND SO TO THE RESULTS
In the final reckoning, Paul won the tournament, I finished 3rd and Moonraker Andy came in fourth.
Thanks to Matt for organising this great event, to Danny for providing mince pies and to all of our opponents.