Hello again, long time no see!
I was quite unbusy hobbywise, mostly because of moving houses, pretty long vacation and other stuff. I managed some single, unmotivated brush swings from time to time, but then I got my flow back with the start of 2023. My hobby cave is finished, and now I'm really enjoying assembling and painting again!
Keeping relatively close to my goal of reducing my Hobby pile of shame, I picked up the box of old Tomb Kings stuff, and went on my journey to set up an EoD Army - or get at least paint on the things, which waited far too long for it.
I "officially" started the army back about 8 years ago, when I got a good box of Tomb Kings from a friend for a fair price - rare things, more or less everything OOP, and with all the charme of those old days. And friggin SMASHED with thick, unthinned paint, glue and sand. Thank god he didn't know about sealing, it would have been an even greater nightmare! So my first piece of work was a ton of cleaning, metal and plastic. Good old Simple Green (if you don't know this stuff, it works great for removing paint from plastic minis). I was in monster mood those days, so the first thing I assembled and painted was the Necrosphinx, or from now on:
The reanimated behemoth

Pretty quick the second monster followed, because of…you know, monster mood

lovely sculpt, and fun to paint:
The bone giant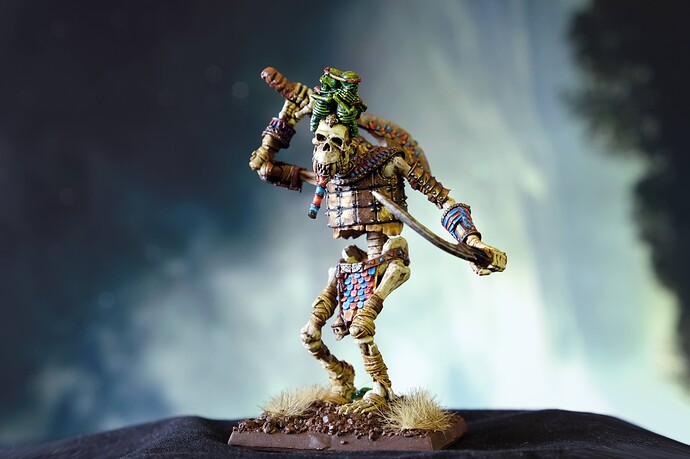 Starting with the 2, some other stuff is finished and I will post it here the next days. Maybe just FYI, this isn't going to be a efficiently created army list or something, I'm just going to paint the minis I have here, with no plan to really ever use them in more than sporadic games. The base color isn't that much desert style, because all the skeletons I've already done in my "classic" undead are based in this style. And I'm not going to paint a giant mass of them again


I hope you guys like it so far, and as always, any feedback is appreciated!