The Moonrakers Review of 2019
January
We kicked off January with an informal gaming session using our new Vanguard warbands, and quickly realised that the game was more complex than we were expecting.
February
Andy and Jon attended the 1700 point Jack of Herts tournament in Hemel Hempstaed. This was Jon's Abyssals first podium and win of the year while Andy's Undead finished 9th.
Jon and Paul raided Beachead on the south coast and scooped the 2 top rows of the podium in a display of raw Moonraker power! Jon also fought his natural feeling of revulsion for anything either Good or Elven and bought 90 second hand GW Elves; these were repainted, ritually decapitated and fitted with skulls to make them Evil.
Andy and Jon made the long trek north to Stockport for the Four Foot Snake tournament in Stockport. Here we met Tim Roller who, we thought, was from the US, but Tim explained that he was actually from Texas. Tim's mother was also staying in Stockport. Jon asked her if she also played KoW, to which she replied: "No, I've got a life". Jon's army was destroyed by Tom Robinson in game 1, and then again by Andy in game 4 and also took a battering on hobby score to finish in the bottom half of the table. Andy wowed the judges with his painting and display board and turned in some great battle results to finish in 7th place from a field of 40.
March
Jon (Kin) and Andy (Undead) attended Danger Below at Black Dragon, just finishing in the top half of the field.
Paul and Andy also attended Tides of War 11 in Bristol with Paul's Abyssals topping the podium and Andy's Undead just missing out in 4th place.
April
April saw all 3 of us attending the Easter Endurance tournament in Poole. A long day with 5 games. Jon finished 2nd with Abyssals, Paul's Rhordians took 4th place and Andy's Undead finished 8th. Despite some tough opposition from Rusty, Jon also took the Most Double 1s trophy.
May
The world was rocked by the announcement of the Fox's withdrawal from competitive gaming. Work started on finding a replacement for the team at Clash of Kings.
Jon and Andy bit back their disappointment at the news to travel to Bristol for the Tides of War 12 tournament in Bristol. Jon ended up second place with Abysals while Andy's experimental Kingdoms of Men struggled and ended up in the bottom half.
June
June saw Andy and Jon heading north to Stockport again for the Tale of One Kingdom tournament. Jon finished 8th while Andy's experimental Nature army finished just outside the top half. The highlight of the weekend was winning the Saturday evening pub quiz!
Jon attended the Kings of Herts charity doubles tournament with Grant Alexander, finishing 5th overall after a promising start.
July
July means the 2 day South West Clash. Andy and Jon set off with hope in their hearts. Misplaced hope as it transpired as disappointing results saw them finish in the bottom half of the table.
August
August means Battlemasters. Despite the disappointing results in July, Andy and Jon set off undaunted. In a bizarre scoring arrangement, Jon finished in 7th place with 3 wins and one loss while Andy finished with one win, 2 draws and one loss in … 6th place. Andy also won the best painted award. Not bad results from a tough field of 22.
September
The world was rocked by the announcement of the Fox's return to competitive gaming. The Fox celebrated by commissioning his man-cave gaming shed, now christened Moonraker Base Alpha (for youngsters, that's a reference to a 70s TV sci fi show).
All 3 of us visited Bristol for Tides of War 13. After 2 games, Andy and Jon were in 1st and 2nd place and met each other in a vicious civil war which Andy won. After that game, Andy and Jon were still in 1st and 2nd place and had to meet each other again in another vicious civil war, in which history repeated itself and Andy won, something that was becoming a standard tournament outcome. After that game, Andy and Jon were no longer in 1st and 2nd place. Andy won the tournament. Paul, who cleverly avoided having to play either of the 2 clearly best players, leapfrogged into 4th place while Jon dropped to 5th. Andy also picked up another best painted army award.
September also saw Clash of Kings with another trip north to Stockport. Andy and Jon were joined by Leo for his first competitive outing of the year. Paul was replaced in the team by a previous Clash winner, Moonfaker Nick.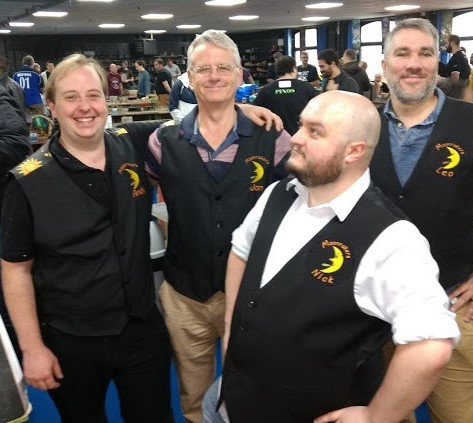 For some reason, Nick played his first game in shorts:
Leo sported his glow in the dark Undead.
Mixed results saw the Moonfaker become the least valuable member of the team for the event, and subsequently blaming the team waistcoat for his poor performance. But we still love him, honest. However, Jon (Abyssals) and Andy (Undead) both won best in faction.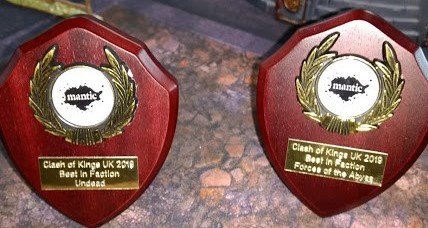 October
Jon abandoned the team for a day to go to a Vanguard tournament in London, finishing in third place and winning a stack of goodies.
November
The end of an era with the demise of Second Edition and introduction of Third.
. So farewell then Edition Two,
. We all enjoyed playing with you.
. Your one inch bounce back will be missed,
. As I prepare my Third Ed list.
None of us is at all bitter about the disappearance of some key units (cough, Despoilers, cough) from the army lists.
Jon attended the Black Dragon 2 day (2nd Ed) tournament using his Goblins, but finishing a disappointing 4th.
Paul took the opportunity of a lull in KoW activity to visit India where he sought the answer to the ultimate question from a wise man. "Play more Kings of War", was the answer.
The last weekend in November saw Christmas Carnage (2nd Ed) at Bristol with Jon, Paul and Andy all involved. Paul took his Christmas themed Nature/Elf list and everyone attended in Christmas attire.
The Moonrakers took 3 of the 4 top spots, separated by Matt James who used his aura of TOing to avoid any of the other Masters' players at the event as he snurgled his way into second place. The prizes at this event set a new standard in tournament awards.
December
The first weekend in December saw Andy, Paul and Jon attending a testing cold weather survival course. Sorry, that should read, attending the Masters.
Set in a cold, dingy and dilapidated church, the venue was all you could wish for – if you want to film a chill gothic horror tale.
We were fortunate to be unveiling the Moonrakers' winter fashion collection that weekend, which provided some warm clothing to help counter the chill.
Paul was the most valuable Moonraker, finishing 4th, despite having scored no points and no kills in one of his games. Jon and Andy finished in the bottom half of the field.
December also saw the Mantic sale in which Jon bought a shed load of Loka figures to proxy into other armies.
The final event of the year was the Moonrakers vs Warborne 3rd Edition introductory day over the Christmas hols.
Kerry, Barry and Mikey, the 3 "ys" Warborners, faced off against Andy, Paul and Jon using the 3 new scenarios. Much learning was achieved and much fun had.
And so, off to await our fortunes in 2020. Best wishes to all for the New Year.