Having played my first Vanguard tournament in Dark Sphere last weekend, I thought I would share some thoughts on the game. First off, thanks to Dark Sphere, Angry Grot Events and all my opponents for a great day out.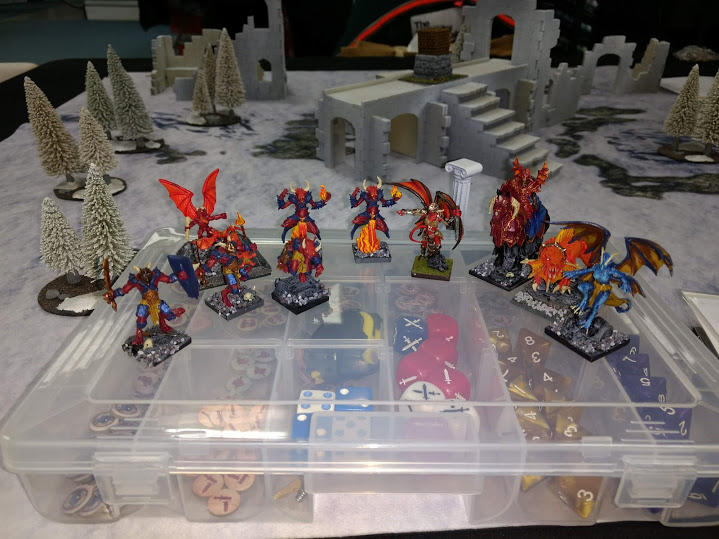 Speed of Play. I only finished one of the 4 games. The others got stuck half way through turn 3. This may have been partly due to a lack of familiarity with the rules but was also due to the need to really think through your next move and consider the order in which to activate your models and to consider the myriad of options open to the opponent. It needs at least as much thought as KoW and plays more slowly. Deduction: consider victory conditions right from the start.
Rules. Not as 'clean' as KoW. Particular issues arose over determining whether a run action qualified as a charge and over fighting on multi height terrain. My last game involved fighting over a fortress with walkways and elevated rooms, a complete rules nightmare.
Power Dice. Really important to use effectively and select which units to force fatigue while retaining dice to clear fatigue in the end phase. Attacking enemy command models to reduce their pool of dice is normally a good move. Power Dice are less important in the first turn to support combat but can be used to good effect in enabling you to get into good positions.
Activations and Initiative. It is sometimes important to have the initiative in the next round. One opponent wrong-footed me by using group actions to burn through their activations to ensure they finished activating first and therefore got the initiative. Of course, this gave me extra 'free' activations with no options for enemy counter moves.
Just my two pennyworth.