There is no doubt I have army ADD at this point, but when you enjoy what you do… It is what it is.
So, I've had these Stormcast models for some time. Did some interesting experiments with them over a year ago. I got easily distracted and I wasn't sure how I wanted to paint them until I saw a "bloodangels" theme I really liked, in a dark gothic presentation. POW - ideas came rushing in.
In the Movie Immortals, Titans were a weapon to be used as a tool by the gods. Kind of Anti-heroes I would like to portray in this presentation.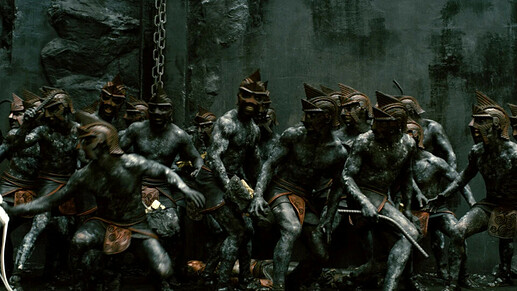 Now, my titans are visualized as armored soldiers, not caged tigers. Hoping that I can portray an army formidable of enslaved soldiers. I've taken this further in the theme to fit the idea that they are actually more free willing in the service, knowing they have a role in monitoring this gate in Hades. With that, I'm presenting them making an insurgence through the gate to control any attempts to come through this gate. With that in mind I have a larger Titan as well, using the Archangel Tyrael model.
Imagine him in Red and Black.