They look great. For some reason haven't seen them before.
Pity there only seem to be two picks per spure. Probably a must buy from me anyway. The other two Oathmark Dwarf kits are superb.
I think they were only actually released this week or so
Yes! I remember seeing yours!
I have painted some barrels and tables, plus the weapon racks, mainly to use as Vanuguard scenary, but you're right, it's really quick (especially with contrast paints).
It definately makes the game feel more immersive with the models painted, and it was a chance to also get enough undead for a warband for vanguard too.
I'm now painting up the Abyssals from Dungeon saga - I got the most ridiculously cheap ebay deal and got everything (except the green rage models) for £26. No typo there, £26! Strangely, I am not enjoying painting the Abyssals nearly so much - maybe I'll finish off the furniture of the Dwarf King's Quest first.
Your ones were an inspiration for me to get my models painted up!
Great to hear that @screamingaddabs !

And who knows, maybe seeing your painted Abyssals will get me back to Dungeon saga again too!

I also picked up the entire Collection on ebay … but not for 26pounds! Wow that was really a steal!
And yup been looking at the Abyssals and the Orcs from the expansions … or some more skellies for Valandor and then maybe the Dragon expansion. But as for now I'm still firmly invested into my latest Kings of war projects. Maybe afterwards!

My goblins are progressing nicely! The latest project is a mawpup launcher: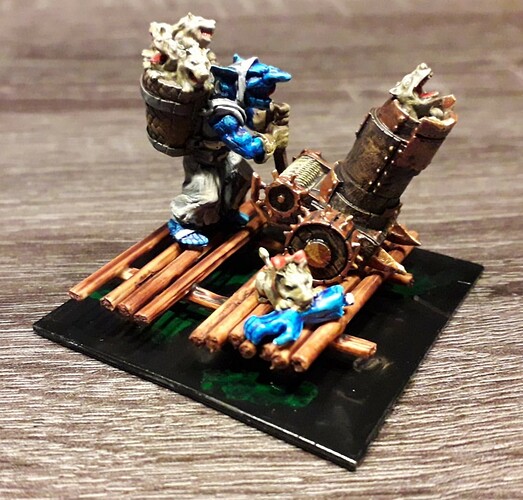 Look at those cute little mawpups, ready for their ride.
I'm sure that they'll be fine.
More stuff worked on.
Sylvan kin. Not my best phone shots.
EoD

I love those glowing stumps, what an awesome idea. Definitely want to incorporate that into some of my Sylvan Kin basing.
Sweet display board for the EoD! Where are those Sphinx's from?
Hey Scott. I think those are from Thingverse. Egytian ruines I think. Those got printed several years go at this point. I use them mostly for my terrain on the desert table, but they fit the display well. The glowing stumps are Greenstuff world If I recall.
Thanks for the kind words. I hope the show that tight paint schemes and color palates can be appealing as well.
Creepy chroneas! It almost looks like you can see faces in the flames.
They are the reaper bones fire elementals - awesome models, esp for the price!
I like your choice of Abyssal Fiend @Sceleris - it's always nice to see something a little different to the norm!
This is my first block of Ironguard. They've all got cloaks to differentiate them from my Ironclad, but they still look more or less identical from the front. So now I need to figure out a way to set them apart a little more.

gold highlights on the helms? Ruby / sapphire gems on them?
Good paint job, btw!
Cheers - I generally do the "little different to the norm" quite a lot!
That is unfortunate, I used as many different heads as I could find (from the command sprue and the full helmet with the eye slits) and a slightly different symbol (basically the same, but with an extra dot, that looks like it may have been added when the dwarf got promoted from an ironclad).