I've been busy building a Viking force recently, and am very rusty with
kings of War, so i thought i'd have an ambust battle to get familiar with the rules again… but i got carried away.
Kings of War vs2. Battle report. A Kingdom of Men (Imperial Roman) army vs Herd army (Celts with a few Viking thrown in) . Scenario … A Cattle Raid, of course, so there is a Major Victory if the Herd army can steal that plump Herd of Highland cattle penned up behind the tavern in the centre of the market town. The Kingdom of Men get a major victory if the cattle remain within the fortifications. I've limited the armies due to the confined streets of the town, so no hordes or legions, but with a proviso that troop or regiment sizes units of the same type can join together to bulk up into bigger units, and visa versa. The fortifications are protected by 3 troops of bowmen, two ballista in the watchtowers and a seige artillery in the top floor of the round tower. The Invasion starts once the Herd units appear out of the dense woods and start to charge across the cleared area towards the town. The two bridges can allow a regiment across unhampered, but anyone trying to the river will only go at half pace. The defenders can shoot on turn one, and will send a fast rider to the main force to request reinforcement. In order to enter the battlefield, each unit must roll a d6. on a 2-6 they arrive unimpeeded, on a 1, they are delayed.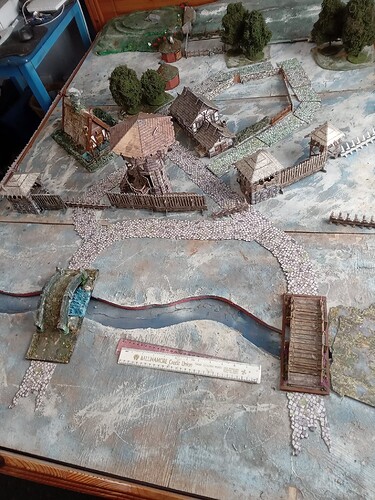 The fortified town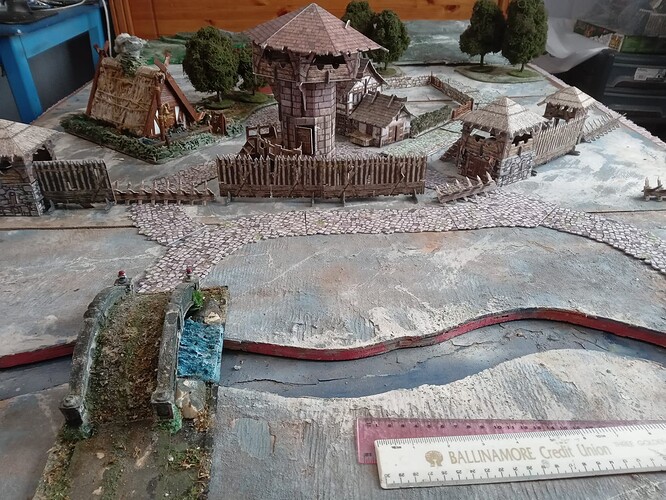 The view from the northern Woodlands were the raiders are lurking,