Looks very good. Something wrong happend to the 2 piece net.
Thanks. Yep, I had to rearrange that net a bit, since the dwarfs are significantly smaller then your average Naiad. I need to sort that out with green stuff later.
Did You try to bend the net near naiad wrist? It is a weakest part and easiest to bend.
Yes, but that way the legs are pointing quite upwards. It's already fixed with green stuff. I guess it won't show too much when painted.
I know the problem. I had to adjust naiad army so the net is flat on the ground and the naiad is not in a wierd position. But GS option is as good!
that looks a fun project @Findol , really cool. If there was ever a need for Scratch 'n'Sniff paint, he'd be a likely candidate.

Hello!
Check out the first update for the #MonsterMarch7 painting challenge. Many fantastic entries already!
Please, note you can join at any time!
Great looking regiments! I'm a fan of Artisan Guild's style for fantasy gaming.
I like how subtly gross the guts are.
Gross enough that my wife wouldn't even look at it haha. Mission accomplished.
Partially inspired by Alex's Corpse Collector on YT 52 Miniatures. One of my favourite content creators right now.
Given it is Paddy's day , here in Ireland, i put my Romans aside and painted something green.
Full discosure, a family friend bought this for me in early December, thinking it would arrive for my Birthday, or if not, Christmas. It arrived 3 months to the day late, yesterday, so i glued it together last night. This sort of shocking customer service wouldn't happen with Mantic etc, which is why i stopped buying from that company, Great models true, but apart from that, expensive and poor service.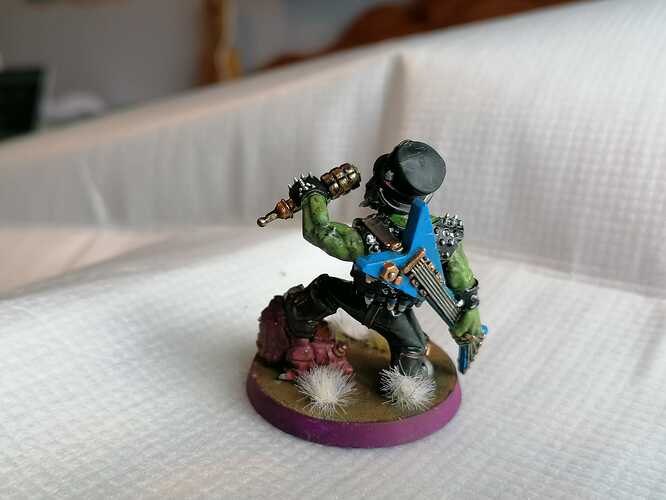 As the song goes, "It's all about the bass," or base in this case.
With 12 Roman Praetorian Cavalry in need of some suitable basing, as usually I'm aiming for flexibility, to use in KoW and HC so ideally a base that can do a regiment/ horde, but also, can switch to open order, battle line or even column to trot on down a road. … easy. I also envisaged not a Roman road, but a rougher road that would have to be all that was available during an invasion, making it safe for the road builders to come along after and build a better one, with grass on the verge and running down the center.