This is really very neat! I especially admire the raven's wings, and the Morrigan conversion.
The Greater Earth Elemental for my Herd army is now complete. A propper gnarly titan rather than the pile of rocks you usually get

After i added a club , which brings the model height to 11" /28cm , and after painted up the creeping vines on it, plus a dry brushing of bubonic brown and dose of Agrax Earthshade to bring out the barks etc. i've still to add a few touches to finish it off.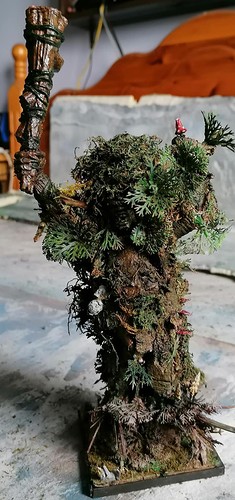 A murder of crows: The Herd Woodland critters
Nice - where are the birdies from? Seen some 3d printable crows etc that I get get via local store, but always on the look out for alternatives
many thanks. the crows are from Dead Man's Hand made by Great escape games. i got them through North Star
When I first thought about using a herd of cattle in my Mythological'De Danann'Herd army, I'd considered them for Minotaur chariots, but I ended up using Celtic chariots for that, so I have decided to use them as Centaur Bray Striders instead… Although I will need to order another couple of sets to make a full regiment of them. … still, looking good so far. I didn't want to commit to too many until I knew what size they actually were.

oh wow ! Fame at last

cool
Yer, yer. Nav.
I was a fan before he was famous😄
Haha. Yes well deserved recognition





Nice one Nav.