It's funny how rarely I see Night Haunts painted as classic white ghosts, they're so often glowy green / blue ala Ghostbusters. Look great! Dig the green fire pop.
Good to hear that there are people with an output like me and not just @Sceleris and @Nav😉
I definitely belong in the slow painters club. Trying to change that now though!
Been a while since I painted Kings of War stuff and still not a model.

Also the opposite of spring!
It appears that my hills are a bit small, so I made a bigger one, completing (as far as I'm concerned) the set that matches the basing of my dwarfs.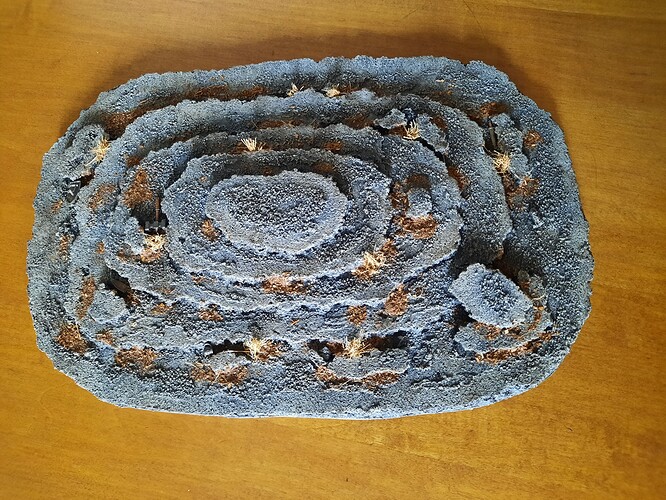 i love the word play in Sauceror
I have found my new colouring for my Gobbos:

I wanted a more vibrant blue colour and found it in Contrast Paint (Tallasar blue) highlighted with ice blue. My goblin army (here) has a nice basing, but the sky-blue skin colour left something to be desired.
I lovedthe vibrant greens of the oldhammer goblins, but didn't want my gobz to be green. (I mean, why are all goblins green? It's an oldhammer trope that I didn't like that much. So I wanted a bright colour of another kind.
I decided blue over red because most Abyssals in Pannithor are red. (And yellow. Who in his right mind paints hundreds of models yellow?) My first 1000-ish points have the skyblue colour and I was moderately pleased, but i have experimented some since starting that army.
From these experiments, I like this new colour scheme best.
Only 56 models left to paint.

Edit: Model blog post here. There's even trolls.
Who paints armies all yellow? Poor imperial fist players… hehe