Seeing your stuff makes me almost wish I still lived in Yorkshire, would love to face off against your lads

Haha cheers! Well I wish you lived here too - would have someone to play vs then!

Although I was asked on another forum why do I need THIS many Wiz's… ehhmm… well I really don't tbh.
And thanks again @Nav !
(click through to my flickr btw if you want a better look / different angles etc, I only post a few shots here so as to not spam you all… too much

)
Another couple of days, time for some Goblin Biggits / Kings

(or I can just chuck them in as unit leaders too ofc, cos as we know, magnets & trays are best!

)
Fabulous, really nice skin tones, can i ask what paints you use?
Ask me anything, or AMA as they say these days

My common Orc & Goblin skin tone is usually Vallejo Game Color Goblin Green base, shaded with a wash mix of an ancient Citadel "Dark Green Ink" (I believe there are modern equivalents though), a bit of medium, some water, and some Vallejo Game Color Dark Green and/or some Citadel Nocturne Green - I kinda vary this mix a bit on purpose so it gives a bit of variation in their skin tones. Then I highlight that back up - just one highlight with Goblin Green again for regular gobbos, but character models get the favours and usually go up in 3-4 stages from a darker green mixed with Goblin Green, through to pure Goblin Green, and then some hightlights with a bit of added yellow & a touch of white (again, I vary a bit on purpose).
Depending on how much skin they are showing (ooer) some character models get the extra favours of instead starting with a Vallejo Game Color Dark green and/or Citadel Nocturne Green base, then highlighted all the way up from that to the same highlights as above, with usually 6+ highlights (depending on my mood and how nice the model is etc! hehe). Only the wolf riding Biggit got that treatment from this last batch, as he had a lot of shaded areas I wanted more control over than a wash would give me. But it takes way way longer to do this ofc than a wash! I originally planned to do this on every character modelm, but I found on some smaller Goblin models though it doesn't make enough difference to be worth it (and I have too many Goblin character models to paint!)
Btw. If anyone has any ideas of what to do with the "glass eye" on the first guy, let me know. I have just painted it white for now to make it stand out at least. I figured on a normal model I would paint a 'red glass eye' I could paint pure red, but then, that's how I do my normal Goblin eyes anyway… so I wasn't at all sure what to do for him.
And I thought the blend of paint mixes was complex on my savage orruks… Im not worthy!. Thanks
Hahaha naaah not at all, you're definitely worthy with all your conversions work

(Edit - also "worthiness" is not really a concept when it comes to mini painting tbh, the main thing is to either get to a stage where you're happy and proud of your stuff and it is "what you want" or try to learn to get to that stage the way I see it. So asking for tips and ideas is always a good idea for both of those things. And ofc some people try and get even better and become experts etc! But that is something else

)
It's not really that complex, just a way for me to get the wash effect out of the paints I have really. If you have a nice dark green wash you're happy with it, it will do just as good. The main thing is Vallejo Goblin Green is just perfect IMO, waaaaay better than any current Citadel paints.
Thank you. Some of my goblins are painted with the 'original' goblin green' in the black chunky citadel pots . It was a nice green, but a little darker than i like. The newer gretchin green is paler, almost sandy brown in comparison, and the Waaagh flesh too dark a green. The best i've founf is Loren forest green to base, then some Warpstone glow washed over that to highlight it, followed by a lighter wash of my own device which has a lot of Flash gitz yellow in the green base along with some Orkhide green shade and a few other secret ingridients like unicorn tears.

i've never tried Vallejo paints but will have to get some before i buy more goblins
That white eye looks suitable baleful all on its own, works for me anyway!
Well thank you so much @SteveDeathByDragons for the 15 mins (well, maybe 1 minute) of fame on the weekly round up !!
Just for that I feel I ought to post some more minis while my ego is completely swollen.
(I'd also invite you over to my place to teach me how to really play KoW properly in a normal year, since I know you're not that far from me, but never mind eh? Eventually one day, I am pretty confident I will see you on a tabletop battlefield somewhere…)
There's been a few shots of my Chariots before but here they are all together as a Regiment: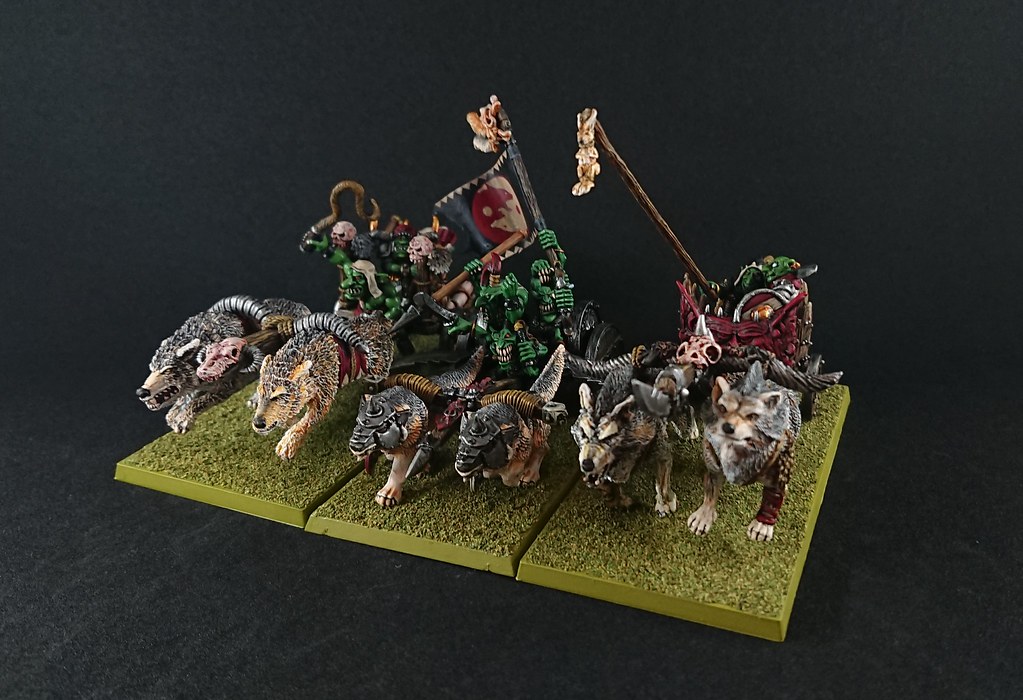 Because all my very old artillery models came with Orc crew, I was trying to find some more suitable Goblin crew models, when I discovered these guys actually in my old 40k bits and pieces - as they had been bought to use not for Blood Bowl, but as 'Runtz' retinues for 40k… aaanyway, I realised they would fit pretty well as crewmen for my artillery which are currently getting rebased right now so I can magnetise their bases alongside these crew, and then ensure they are always on top of the correct base for KoW (or other games) as necessary.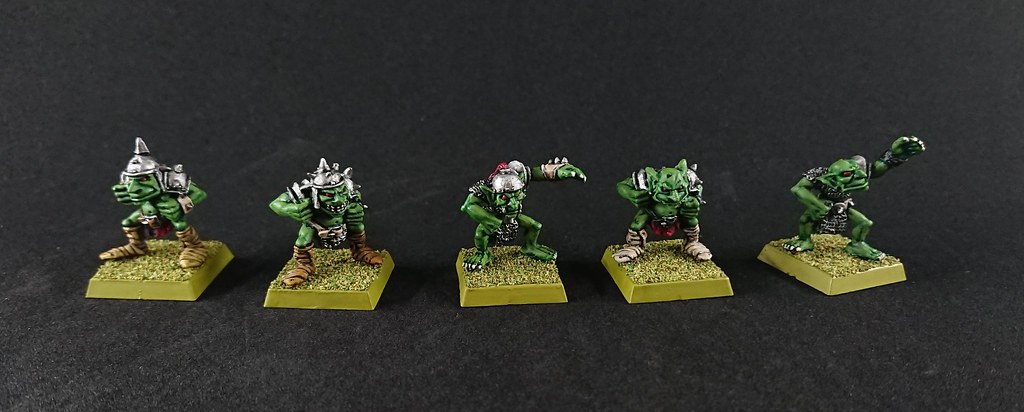 And some group shots, my Biggits/Kings on foot:
My Wizs on foot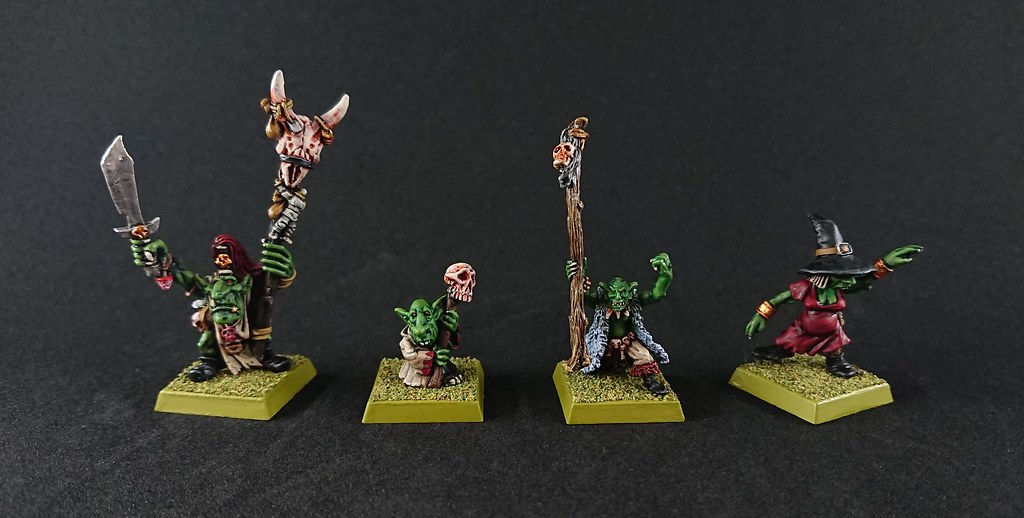 And the Rebel Minis set together: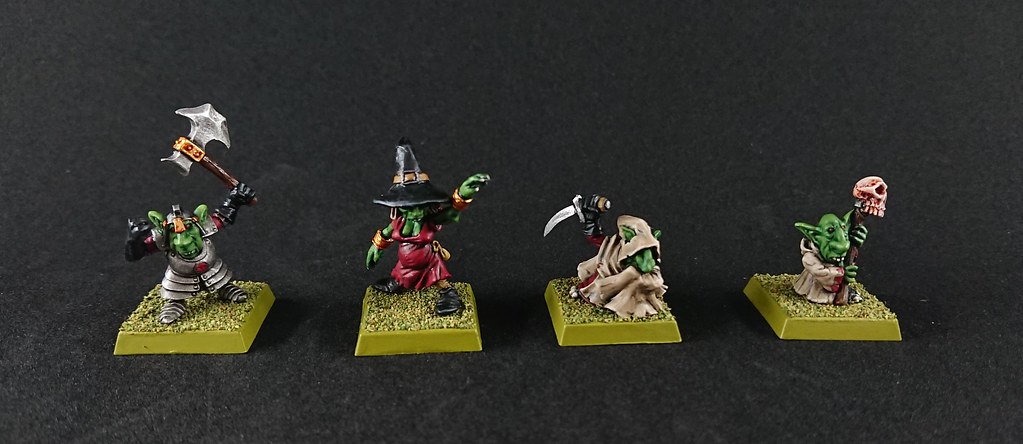 And the (painted to date) Sword Stone Minis set together:
(And yup I do want some of those new Mantic Goblins and as you might have figured out the nick name 'Remy' comes from Street Fighter, so I definitely need that new Goblin character!)
About 6 weeks from sprues to finished, whew, felt like a long time.
I'll use these as Morax in Kings of War usually I reckon!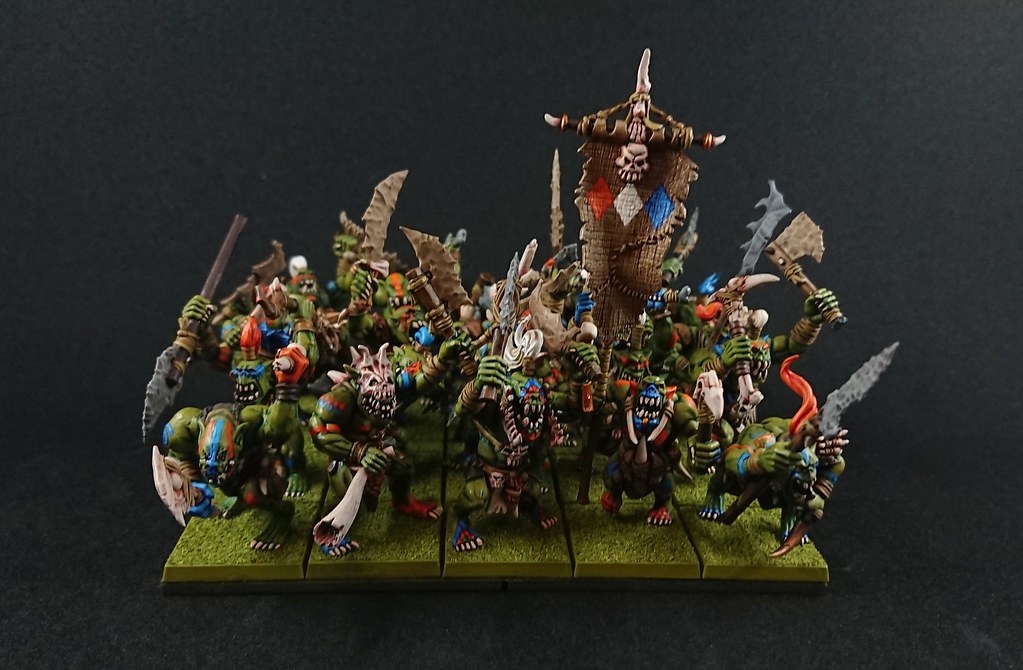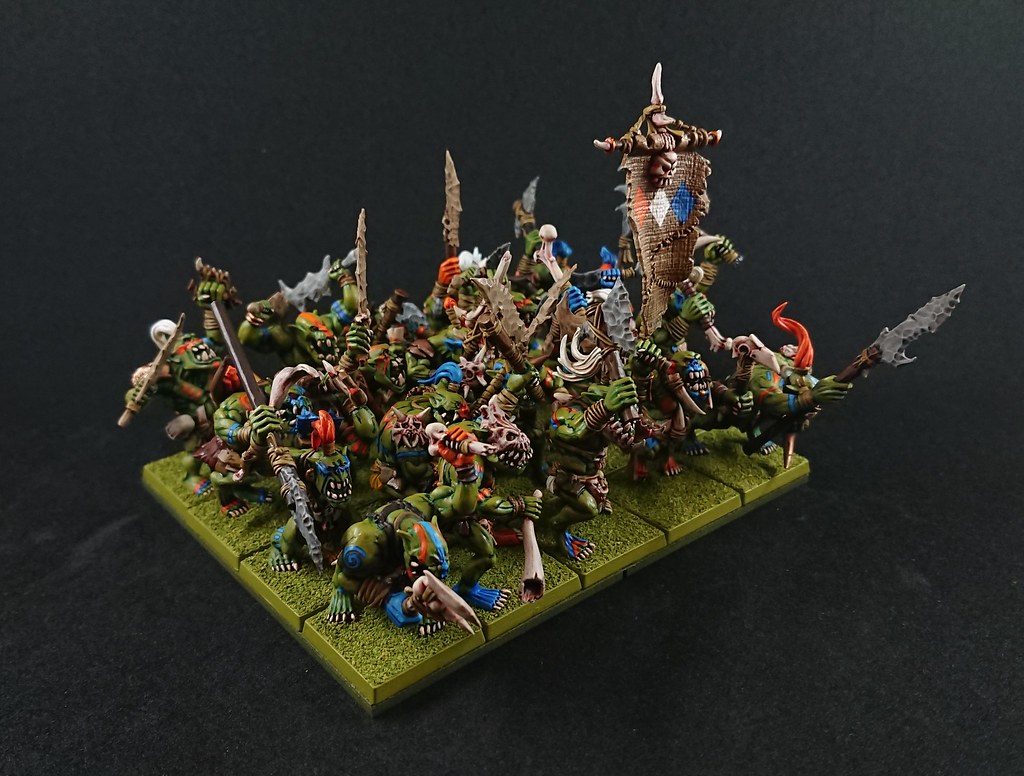 Most are "GamesWolf" miniatures… mixes of GW and Shieldwolf parts, but here's a few "pure" Shieldwolf ones: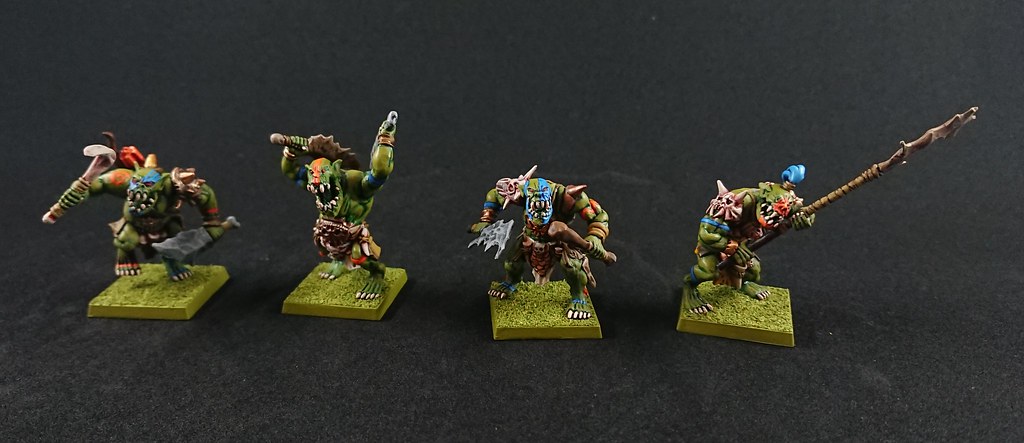 really nicely done, really love the war paint
Cheers! It's honestly quite angst-causing to paint the warpaint over the top of their green skin though when you've already painted it once

Wild orcs looking amazing! Great work.
My latest is some actual Goblins!

There's almost 40 years worth of different miniatures parts making up this Spitter regiment - can you spot and name them all?

No Mantic goblins there yet, but rest assured they are definitely on my shopping list and will be added to the Goblin hordes eventually (I just needed to stop buying stuff and get painting more of what I had for now

)
You might have seen this on my gaming twitter (@agoners) a while ago, but here's a group shot of everything I painted or at least significantly re-painted since the pandemic hit the UK (end of Feb 2019 time) until the end of 2020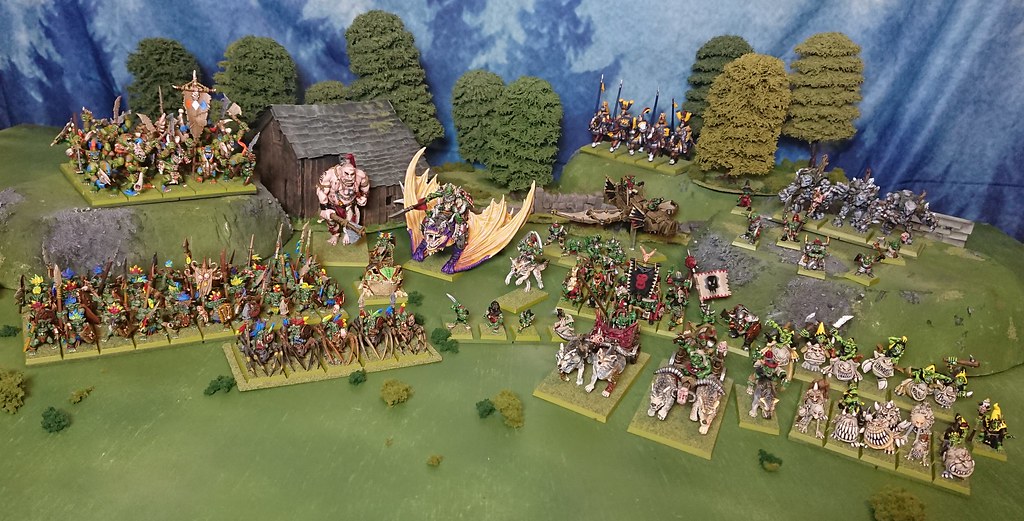 Also, I got the War in the Holds set now, so some new Mantic goblins will be added to this lot one day - although I've got such a big paint queue ahead of them right now, I haven't even opened the box yet! (want to leave it until I can actually open & work on them soon after as I find that more fun)
Absolutely lovely looking Orcs & Goblin force, takes me right back to the early 90's!
Wow, that is really an awesome picture and great work @Remy77077 !

Thanks @Stonehorse and @Mikes I appreciate the kind words

Don't forget those 5 human horsemen looking a bit lost though at the back!